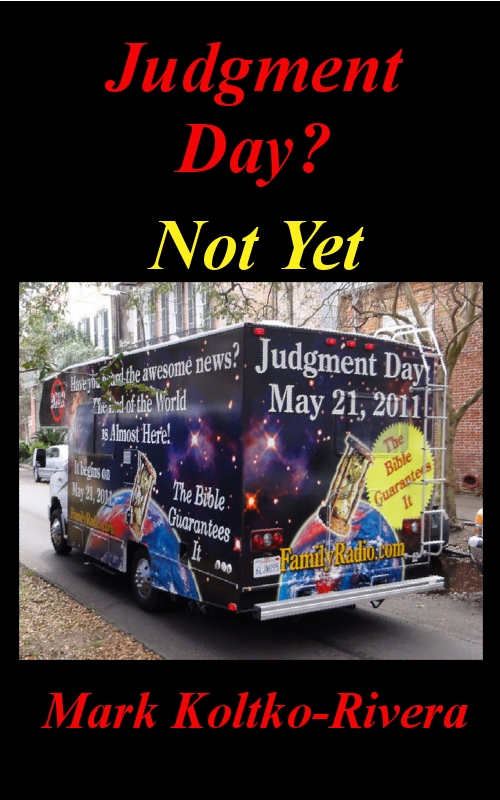 [
UPDATE
: The post-Rapture-that-didn't-happen edition of this book, titled
Why Judgment Day Didn't Come: Why Harold Camping's Predictions Failed
is
available here
from Smashwords in multiple e-book formats.]
By now, most tuned-in Americans are aware of a prediction that Judgment Day will occur this coming Saturday, May 21. To be specific, Harold Camping, who broadcasts on Family Radio around the country, predicts that Judgment Day and the Rapture will occur this Saturday, and that the end of the world will occur five months later, on October 21. A number of people are taking this very seriously. Several of Camping's followers are travelling around the country in Project Caravan (see the photo on the book cover, above), advertising these predictions. The
New York Daily News
and the
New York Post
recently reported that a local follower has spent his life savings, $140,000, to put up advertisements about the predictions on buses, subway platforms, and bus shelters around the City.
How sad, then, that Camping's predictions are worthless.
I suspect that very few of the followers of Camping who have been pamphleteering this past weekend at the Time Warner Center in Manhattan are aware that Camping's predictions are based on a bizarre interpretation of biblical scripture, timelines, and symbolism that is so severely distorted that it can only be described as pretzel logic.
And yet, false predictions like this are important to address. People who believe that the end of the world is imminent have been known to commit murder and suicide, or to take other rash and ill-considered actions. As a Christian, it bothers me that false predictions of the Judgment Day bring ridicule upon the Bible and upon Christianity itself, and divert attention from the real Christian message. Finally, the more attention is invested in panicky predictions, the less attention is being paid to the important challenges that we face in the world today.
So I wrote a book about it all.
In
Judgment Day? Not Yet
, published as an e-book on Smashwords.com, I describe Camping's claims, and explain why they are false. I also describe why claims like these are so attractive to people, and what Christians can do to keep from being misled.
You can read a
free excerpt from the book
(sorry it breaks off right in the middle of the chapter), and you can
order the e-book
for only $1.99. The book will ultimately be available in a wide variety of e-book formats, but given the time-pressured nature of the subject (!), you may wish to simply order the .pdf version, which is available now for immediate viewing on your computer.
Given the hoopla that these predictions are causing in some parts, you may wish to tell your friends about this book, or even e-mail this post around. If this book stops even one person from making a rash decision, I will be very happy. And, hey—at $1.99 a shot, how can one go wrong?
Understanding the difference between real biblical prophecy and false predictions is definitely
On The Mark
.
[Readers are welcome to comment by using the COMMENTS link below, and to become blog followers through the upper-right-hand box.]
[The book cover
photo
of a Family Radio bus was taken on March 8, 2011, in New Orleans, by Bart Everson. It appears here and on the book cover under the provisions of the Creative Commons Attribution 2.0 Generic License.]
(Copyright 2011 Mark E. Koltko-Rivera. All Rights Reserved.)